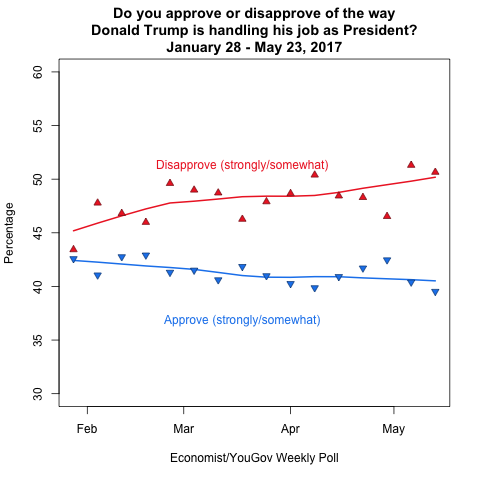 New polling indicates that President Donald Trump's job approval has dipped to a new low.
Numerous Democratic officials have stepped up to call for Trump's impeachment amid the pervasive controversies and dwindling approval ratings.
Fifty-four percent of voters think Trump is abusing his power as President, according to the survey, while 43 percent think he is not.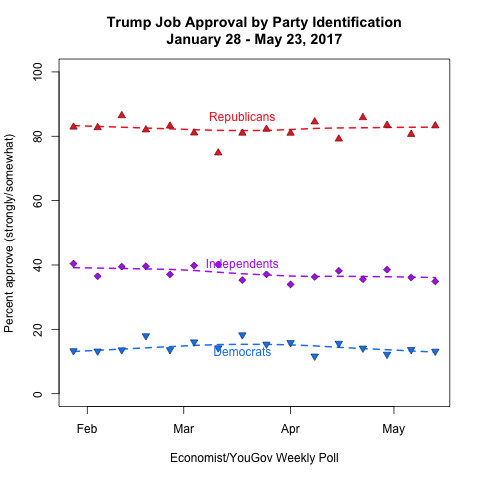 Trump shared an image that celebrated his 48 percent approval rating as measured by Rasmussen Reports, a conservative-leaning pollster.
Meanwhile, the survey indicated that Pence has suffered a steep decline in approval.
The last month took a toll on the president's ratings. Thirty percent of voters statewide had a favorable view of Trump.
More news: Bangladesh pull off historic win over Black Caps
Overall, 60 percent opposed Trump's firing of FBI Director James Comey and 72 percent favor appointing a special prosecutor to look into allegations of Russian meddling in the campaign. Independents were split, with 37 percent saying the media was treating Trump fairly and 40 percent taking the opposing view. The survey was conducted before the Congressional Budget Office reported Tuesday that the House plan would result in 23 million more Americans becoming uninsured over the next decade. Deputy Attorney General Rod Rosenstein appointed former Federal Bureau of Investigation director Robert Mueller as special counsel to oversee the Russian Federation probe last week.
Most voters also said they were nervous (53 percent) and not excited (59 percent) about the future of the country, in general, and pluralities said they were feeling anxious and not optimistic.
"They want to see action", Greenberg said.
More news: GOP Montana congressional candidate accused of body-slamming reporter
Aggregating the last nine national surveys released between May 13 through May 24, including the Fox News poll, RealClearPolitics found that Trump now has an average approval rating of 40 percent while an average 54 percent disapprove of his job performance.
More news: US warship challenges Beijing's claims in South China Sea