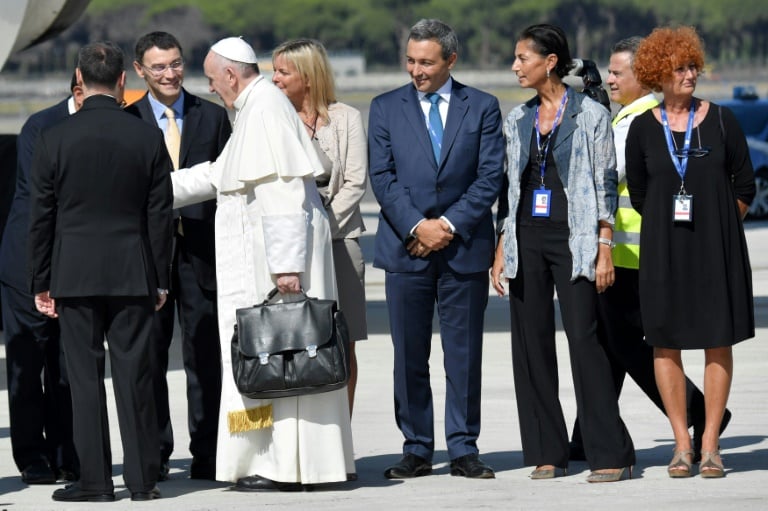 Pope Francis holds an open-air mass Thursday (Friday in Manila) in Colombia and meets with its Nobel Peace Prize-winning president to cheer the country on its march towards reconciliation after a half-century war.
Pope Francis has arrived in Columbia on Thursday on a five-day visit. At the airport, he was welcomed by President Juan Manuel Santos. Clara Rojas, now a congresswoman, did not see her son again until 2008 when he was 3. For Colombia, this is the first papal visit since 1986.
On his drive to the Vatican Embassy in central Bogota, the leader of the world's Roman Catholics was mobbed in the "popemobile" by screaming crowds tossing flowers and holding up children to be kissed. "I pray for you, for the present and for the future of Colombia".
The pontiff said it was time "to help each other" after hatred that had lasted "too long".
More news: Mandatory evacuation for Georgia's coast
"Peace needs a solid foundation, and reconciliation is one of those pillars that we hopefully we will not only plant but also strengthen", Santos said.
"He is there to support the government's peace process with the former FARC armed group as well as the ELN, which accepted a ceasefire this week".
The pope is expected to remain focused on Colombia throughout the trip, possibly avoiding commenting on any issues in other Latin American countries, including Venezuela.
Francis tried unsuccessfully to mediate between Santos and the lead opponent of the accord, conservative leader Alvaro Uribe.
More news: New Instagram test feature lets you share stories to Facebook
Meanwhile, the nation's top drug fugitive, the target of a $5 million manhunt by US authorities, appealed to the Pope to pray that he and his fellow combatants be allowed to lay down their weapons as part of the peace process - a proposal the Colombian government has rejected out of hand. A half-hour into the flight, he told journalists he wanted to "help Colombia in its path of peace". His five-day visit is aimed at helping solidify last year's peace accord between the government and leftist rebels that has bitterly divided the nation.
At the start of his trip, Francis also mentioned Colombia's neighbour Venezuela, wracked by violent clashes between the opposition and President Nicolas Maduro's increasingly authoritarian forces.
In Villavicencio, he will beatify two Catholic priests killed during the conflict. Some 300 people were sheltering in the church when it was hit during a three-way firefight between FARC rebels, right-wing militias and the army.
More news: Gasoline Prices Stabilizing as Some Refineries Get Back Up to Speed