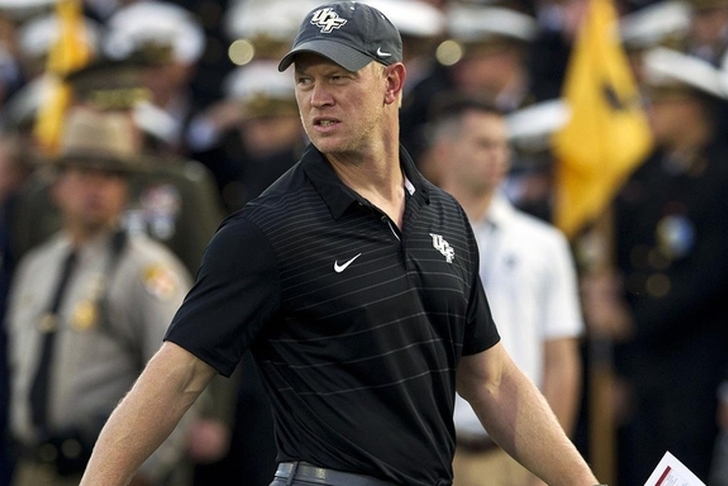 Mullen has plenty of knowledge of the program, as he served as Urban Meyer's offensive coordinator during a three-year span in which the Gators won two national titles.
Mullen has also been linked to the Tennessee Volunteers head coaching vacancy to replace Butch Jones, so it looks like if he does opt to move on from Starkville he will remain in the SEC.
The coaching carousel is spinning at a fast pace, and it has taken Mississippi State coach Dan Mullen back in Gainseville, Florida, as the new head coach of the Florida Gators, two sources confirm to CBS Sports.
More news: Late Sterling goal as Man City sets EPL record; Arsenal 4th
The Dan Mullen era has ended at Mississippi State.
Former Mississippi State Athletic Director Scott Sticklin is now Athletic Director at Florida and has reportedly been in contact with Mullen about the position. The 45-year-old Mullen is already getting paid $4.5 million, but word is the school is willing to bump him up to around $6 million and also making an even stronger financial commitment to his staff.
There were some rumors that Florida could turn it's attention to UCF's Scott Frost, who is responsible for the Knights' incredible turnaround, but Nebraska seems like a more likely option for him.
More news: Doctor Who star Tom Baker returns as Time Lord
The Gators fired former coach Jim McElwain last month amid reports of a personality conflict with administrators.
After a loss in the Egg Bowl to Ole Miss on Friday, Mullen did say he is happy at the school and "plans" to remain the Bulldogs' coach. But Kelly chose UCLA over Florida on Saturday, and Stricklin was left to look elsewhere. When the Bulldogs receive a bowl invitation next week, it will be their eighth under Mullen. Under Meyer at Utah, Mullen was responsible for the evolution of eventual number one pick, Alex Smith.
Mullen spent nine years in Starkville, posting a 69-46 record that included a 33-39 mark in SEC play.
More news: Nassar pleads guilty to sexual assault charges: "I'm so horribly sorry"
"Coach Mullen will do a tremendous job in developing accountability and toughness through a well-coordinated strength and conditioning program".