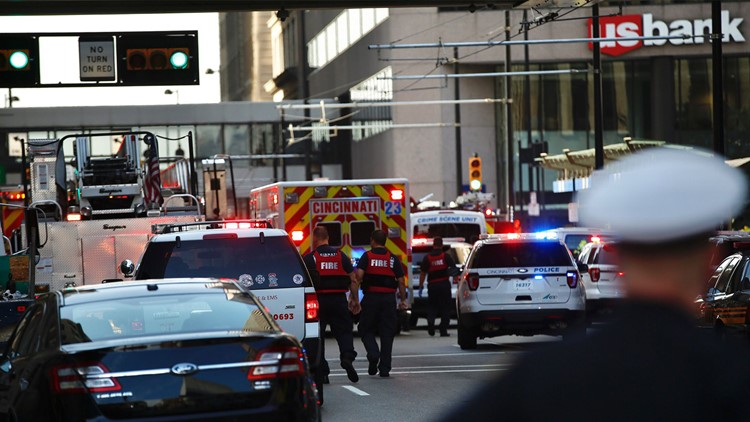 The shooter who killed three people in a Cincinnati office high-rise once acted disoriented after being fired four years ago in SC, and he filed a recent lawsuit that a judge in June said "borders on delusional".
The emergency call about shots fired at 38 Fountain Square was received at 9:10 a.m. Isaac said an individual had entered the loading dock area and fired, then entered the lobby where gunfire was exchanged between the shooter and officers.
The city's police chief, Eliot Isaac, said the suspect was Omar Enrique Santa Perez, 29, of North Bend, Ohio, a Cincinnati suburb.
Police said the gunman, a Cincinnati-area resident since 2015, wasn't a current or past Fifth Third employee. Local police shot dead the gunman later.
Two officers "rushed to her aid and carried her out of the line of fire after she was shot", the statement reads. UC Health spokeswoman Kelly Martin said one victim remained there in critical condition and another was listed as serious.
More news: Rapper Mac Miller dead at 26
The deceased victims were Luis Felipe Calderon, 48; Pruthvi Raj Kandepi, 25; and Richard Newcomer, 64, according to the Hamilton County Coroner's office.
"So, a very horrific situation", Isaac said. The shooter also is dead, police said, and an additional five people suffered injuries in the attack.
"It could have been any one of us", Cranley said. It wasn't clear immediately if the shooter was one of them.
Isaac said the rampage took place on the loading dock and then the lobby of the Fifth Third Center in the heart of downtown.
Hundreds have gathered in Cincinnati to remember the three people killed and the two injured in a downtown office shooting this week. Investigators say he had never worked in the building or had any known association with it. "I think there's something deeply sick at work here".
More news: Tiger Woods off to fast start, chasing first win since 2013
His aunt, Yudy Martinez Perez, slumped against a kitchen wall and muttered denials after she heard the news, The Cincinnati Enquirer reported.
Another onlooker, Leonard Cain, told a newspaper he had been about to enter the bank when someone warned him about the shooting.
"Our thoughts and prayers go to the families of the victims, our heartful gratitude goes to the first responders and our continued support goes to this community that we love". He said a woman wearing headphones didn't hear the warnings and walked into the bank and got shot.
Newcomer, a superintendent at Gilbane Building Company was working Thursday at the Fifth Third Center, Gilbane spokesman Wes Cotter said.
Some told local news outlets that he usually looked angry and wouldn't say hello while another said he always appeared to be in a good mood.
More news: Kim-Moon's 3rd summit from September 18 in North Korea's Pyongyang