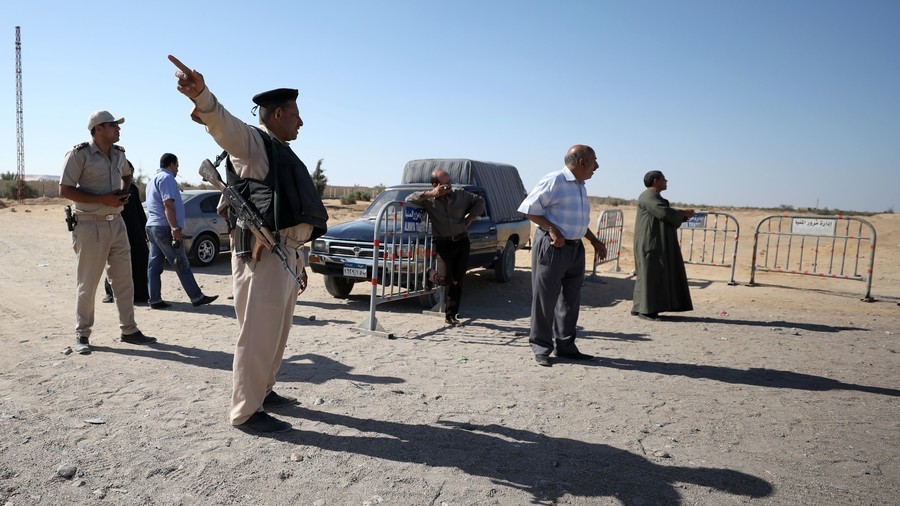 Coptic Christians prepared to bury seven worshippers - including six from the same family - on Saturday, a day after Islamic militants ambushed three buses carrying pilgrims to a desert monastery in Egypt, wounding 19 others.
Later on Friday, an IS-linked website reported that militants in Egypt with links to the group had claimed responsibility for the attack.
The Islamic State (IS) group said it was behind Friday's attack, which killed seven Christians returning from a visit to the desert cemetery of Saint Samuel that was also targeted in 2017.
The attack was claimed by Islamic State which, along with affiliated groups, has said it was responsible for several on Egypt's Christian minority, including one that killed 28 people in nearly the same spot in May 2017.
The Coptic Orthodox Church is the main Christian Church in Egypt. As defense minister, el-Sissi led the military's 2013 ouster of an Islamist president, whose one-year rule proved divisive. In August, a would-be suicide bomb attack against Copts in Cairo was thwarted after the attacker's explosive device detonated en route to a Christian church, killing only himself.
More news: India Thrash Windies by Nine Wickets, Clinch Series 3-1
The main road to the monastery has been closed according to security instructions as it is located in a unsafe zone in the desert, in addition to the unavailability of communication network in its surroundings, the source said, adding that the victims used sub-roads to reach the monastery.
Egypt's Christians account for some 10 percent of the country's 100 million people.
President Abdel Fattah al-Sisi held a minute's silence for the victims, and called Coptic Pope Tawadros II to offer his condolences.
Church spokesperson Bouls Halim told The Associated Press news agency the death toll was likely to rise.
The group - a mix of visitors and workers heading to the Saint Samuel monastery south of Cairo - refuse and are shot one by one.
More news: Why Chelsea's generosity to Frank Lampard may come back to haunt them
A Coptic Christian man mourns victims killed in an attack a day earlier, during an early morning ceremony at the Prince Tadros church in Egypt's southern Minya province, on November 3, 2018.
There had, however, been a lull in attacks on Christians since December, when a gunman killed 11 people at a church and Christian-owned shop near Cairo. It's also in Minya where most acts of violence, like attacks on churches and Christian homes and businesses take place.
U.S. State Department spokeswoman Heather Nauert condemned the attack in a statement she posted to Twitter.
"This latest attack shows that the anti-ISIS (IS) campaign has not yet succeeded in Egypt, despite obvious efforts by the authorities to tackle it in different parts of the country", said H. A. Hellyer, senior non-resident fellow at the Atlantic Council and the Royal United Services Institute in London.
More news: Cardiff, Leicester match to go ahead following death of Vichai Srivaddhanaprabha