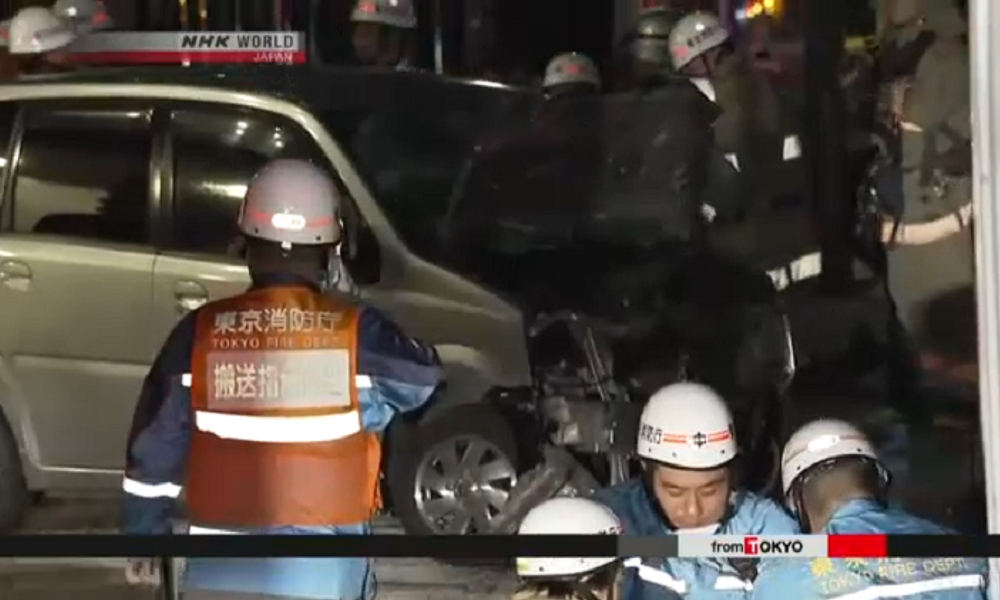 Nine people were hurt, one seriously, when a man deliberately plowed his vehicle into crowds celebrating New Year's Eve along a famous Tokyo street, police and media said yesterday.
Police arrested Kazuhiro Kusakabe, 21, on suspicion of attempted murder as he was driving the rental van with an Osaka license plate in Tokyo's Shibuya Ward in the attack, Japan Today reported.
The street was closed to vehicular traffic at the time as it was expected to be crowded on New Year's Eve and New Year's Day.
Investigative sources quoted Kusakabe as saying at first he had perpetrated an act of terrorism.
More news: Serena Williams & Roger Federer Spend New Year's Eve on the Red Carpet!
Kusakabe drove around 140 meters the wrong way on the one-way street, hitting eight men aged between 19 to 51, the police said. He came to a stop when he crashed the rented vehicle into a building. One male university student remains in critical condition. Four others suffered severe injuries such as fractures and head injuries, while the remaining three suffered minor bruises.
The attacker, who reportedly drove the vehicle from Osaka, has told investigators that he planned to burn the vehicle, private network Fuji TV reported.
A large tank filled with kerosene was found in the auto, police said.
Some media reports said the man had linked the attack to the executions in July of 13 members of the Aum Shinrikyo or Aum Supreme Truth cult, who were responsible for a 1995 sarin gas attack on the Tokyo subway.
More news: 6 people injured at BWI Airport from partial jet bridge collapse
Kusakabe had tried to flee the scene but was captured about 20 minutes after the incident, RT reported.
Meanwhile in Germany, police have detained a 50-year-old man on suspicion of ramming his vehicle into a crowd of people after midnight on New Year's Eve at a crowded plaza in the north-western town of Bottrop.
Another 19-year-old man was slightly injured after Kusakabe allegedly struck him after getting out of the vehicle, the police said.
More news: Bangladesh deploys 600,000 security forces ahead of vote