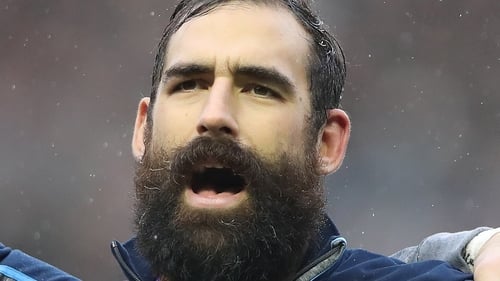 Ireland's Jonathan Sexton leaves the field with an injury during the Six Nations game against Scotland.
"I thought he bossed the forwards as well in a game that was very hard, it really was about inches - every time you carried it was about getting an inch because that's all you were getting. He got a little bit of treatment out there, He's feeling okay now, we don't think it's anything long term", Schmidt said in the Irish Independent.
"That pass release for Jacob's try was flawless, the guy maybe could have got to Jacob if not for that intent in trying to get to Johnny".
"He got two knocks so they were cumulative, and he has a swollen ankle, but that's just swelling and he should bounce back from that pretty quickly".
More news: Grizzlies owner: Team will retire Gasol's jersey in future
"Some of the things that you see him doing.when that ball was scrappy, he went down and picked it up and made something out of nothing and that's what Joey can do and I thought he bossed the forwards well in a game that was very hard". So sometimes that works to our advantage.
After their disastrous opening against England last week, Joe Schmidt's team again started slowly and found themselves behind after six minutes as Bundee Aki played the ball in a ruck and Greig Laidlaw struck an easy penalty over. "And there's no better man to get it in his hands than Jacob".
Schmidt appeared to row back from earlier comments suggesting Sexton had been the victim of a stamp by a Scotland player, saying the alleged stamp might have been an Irish player and that Sexton had expected to be targeted.
Scotland took the lead with a Laidlaw penalty but cheap mistakes allowed Conor Murray and Jacob Stockdale to score and put Ireland ahead. They got one more chance at the death from a scrum just inside the Scottish half, but they couldn't make it count.
More news: I have 'not interfered' with Mueller investigation, Whitaker says
"We have got a lot of improving to do and at the same time we had to wear them down you saw how good they were in defence and I think by and large we fronted up to that as we had to".
Scotland also lost a key player with full-back Stuart Hogg going off with a shoulder injury. "We still have to rely on others in the championship, but we will take stock after the next round and look at what we have to do in the final two".
"In the second half the execution of our plays didn't happen.if we'd been able to replicate the first half we'd be sitting here with a win", he said.
More news: RBI Policy: MPC Cuts Repo Rate by 25 Basis Points to 6.25%